Handy's Tavern was built by Caleb Handy in 1812 and served as a stopover for stagecoaches from Plymouth to New Bedford. In those days, travel from Boston to New York involved a ship to Plymouth, coach to New Bedford stopping in Sippican (as Marion was then known), and another ship from New Bedford to New York. The Tavern had a ballroom for local dances and a room for serving drinks, based principally on West Indian rum. The Tavern was later owned by Captain Benjamin Handy, who continued to operate it as a Tavern until the railroad made the stagecoach route obsolete in the mid-19th century. It then became a family home. Until the early 20th century, it had a long ell off the back containing a winter kitchen and a separate summer kitchen. The property extended all the way to Cottage Street and included a stable.
The Tavern was purchased by the Sippican Woman's Club in 1923 and underwent renovations in the back. The storefront on the first floor was leased to Edith Waters for a luncheonette and later to Marty Sullivan for a fine ladies' clothing store. In 1930 the property north to Cottage Street was sold.
The photograph above, presented to the Sippican Woman's Club at its centennial celebration by the Marion Historical Society, shows the Tavern as it was in 1904.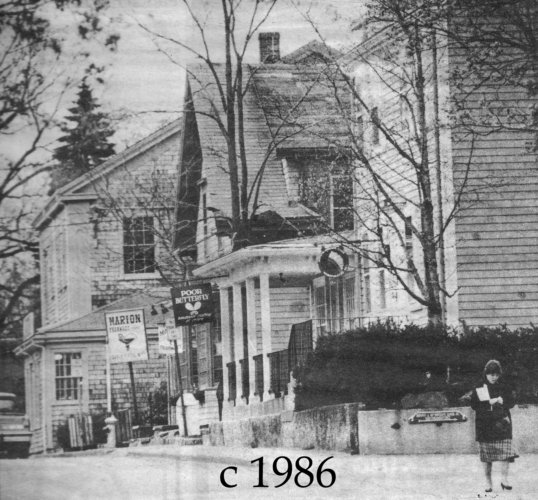 The Sippican Woman's Club has maintained Handy's Tavern as a historic landmark in the Village. Except for changes made when it was purchased in 1923, its appearance from Front Street is likely quite similar to the way it looked in 1812. The Woman's Club has maintained the building in good condition, which has required significant funds for capital improvements over the years. The most recent project was replacing the windows with Andersen Renewal Windows in 2011. The SWC applied for and received a generous grant from the Community Preservation Committee of Marion to purchase and install the new windows. Handy's Tavern is listed in the Registry of Historic Buildings of the Commonwealth.
Today, Handy's Tavern serves as the clubhouse for the Sippican Woman's Club. Two apartments on the second floor provide private living quarters near the center of Marion Village. The storefront on the first floor houses the Coldwell Banker Realty office. Members maintain the garden in the back yard and decorate the Tavern for the Holiday House Tour, when members serve wassail to Tour goers on Saturday and the entire Town during the Christmas Stroll on the second Sunday in December.
The Bicentennial in 2012 was celebrated by transforming the clubhouse once again into an early 19th-century Tavern, complete with servers in mob caps and large aprons!
Jeanne Bruen and President Emeritus Judy Fasciana prepare to receive guests to the Bicentennial Holiday House Tour December 8, 2012.
SaveSave